Information for Parents for a September Return:
Parents are encouraged to visit this website for information and practical guidance to help them plan for their children's return to school. This includes their latest update to the guidance for parents and carers on what they need to know about early years providers, schools and colleges in the autumn term.
DFE Guidance for parents and carers – keeping children safe online:
The Department for Education have updated their information for parents and carers to include a section on keeping children safe online. It provides links to online resources that will help support parents and carers in keeping their children safe online.
Where can I go to get support to help keep my child safe online?
There is a lot of support available to keep your child safe online. Below are some useful links to help parents and carers:
Child Friendly Explanation of Coronavirus:
Back-to-school-after-Coronavirus-1
http://redbridgeserc.org/uploads/factsheets/dave-the-dog-coronavirus-1-1.pdf
Corona_Virus_Social_Story_for_older_Students_
Information from Academic Year 2019-2020:
Dearest children – a letter from Mrs Annette
home learning suggested timetable
Supporting Home Learning during absences and school closure
Dear Parents / Guardians,
In response to the outbreak of Coronavirus we are making preparations for children to access learning from home. We have compiled a timetable of activities which can support learning at home alongside some additional activities should you wish to complete these.
Your child should already have personal logins for the following online resources, which will supplement further their learning at home*:
MyMaths (Maths activities) – https://www.mymaths.co.uk/
Times Tables Rock stars (times table practice) – https://ttrockstars.com/
Purple Mash (a range of curriculum resources: coding, creative writing (topic-based) opportunities, History, Geography, Science) – https://www.purplemash.com/login/
Spag.com (English: spelling, punctuation and grammar activities) – https://www.spag.com/#scrollto
*Class teachers may also further supplement these resources, according to the individual needs of children in their classes.
A suggested timetable is on the link above, with further assistance with accessing resources to facilitate activities.
Please also see a topic grid for your child's Key Stage – this can be used for ideas to facilitate activities linked to the Foundation Subjects.
Children will be provided with an exercise book to complete any activities, tasks or writing.
Seesaw
If you not yet signed up to Seesaw please:
follow the link on the email sent earlier this week
scan the QR code on the letters sent home
speak with your child's class teacher so that you are able to access this via head@rivington.lancs.sch.uk
We would like to highlight the importance of keeping our children safe online. These websites provide various topics to discuss with children and keep children safe.
https://www.internetmatters.org/advice/0-5/
https://www.internetmatters.org/advice/6-10/
https://www.thinkuknow.co.uk/professionals/resources/
Thank you for your continued support during this time,
The Rivington Foundation Team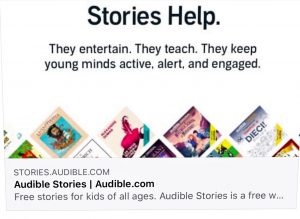 Free stories for kids of all ages
Please click this link to find your stories: stories.audible.com/start-listen
The government have been working alongside teachers and other educational professionals to develop an online resource that provides lessons for children from Reception up to Year 10. Having looked at this, we feel it will be very beneficial in supporting the children's home learning as it has help videos, quizzes and worksheets, as well as following a teaching sequence to support progression in skills. 
Please see the link to access all the lessons and resources, as well as further information for parents and pupils:
https://www.thenational.academy/ 
april revised home learning suggested timetable
Contact numbers and resources for parents
The below links have been provided by the NHS which will give you information about speaking to your child about COVID
COVID-19 Resources for families
Below is a link to the CAMHS resources page, they have lots of useful resources including links to help children who might be worrying about Coronavirus. It has links to apps etc too. It will also support adults who are perhaps struggling with the uncertainty that we are living in.