History Intent: To develop children's experiences and understanding of History locally, nationally and internationally, inspiring and igniting their curiosity about the wider world. History at Rivington Foundation Primary History has always been a subject about which we are passionate at Rivington. Studying history gives pupils the opportunity to develop an understanding of why the world and its people are the way they are today.  They begin to ask questions as they explore the diversity of human experience, past lives and societies.  As of September 2014, we are following the new History Curriculum which focuses on British history. The idea is that by the end of their primary education, children will have a chronological understanding of British history from Stone Age to present day and are able to draw comparisons and make connections between different time periods and their own lives.  Interlinked with this is the need to look at world history.  At Rivington Foundation Primary the children will explore the ancient civilizations of Egypt, Greece and the Mayans, developing their understanding of trends over time and across concurrent civilizations.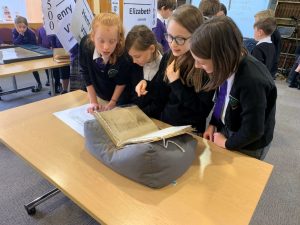 At Rivington Foundation Primary history is taught through investigation and enquiry. Children develop an understanding of how History has had an impact on our lives today both locally, nationally and internationally. Whilst it is important for children to have facts, we wish to encourage independent and critical thinking which will foster an understanding of 'why' as well as 'who', 'what', 'when' and 'where'. Lessons are planned so that there is time for discussion and debate, fostering an environment of enquiry which enables children to revise and justify their opinions as well as encouraging children to ask as well as answer questions about history.
We believe that History should be an interactive subject which strives to ignite a child's natural curiosity. Each unit being planned includes opportunities for children to investigate, handle artefacts, pictorial evidence, watch historical footage, take part in role play activities, visit relevant sites and museums and where appropriate, experience oral history, engaging with historical characters and ways of life.
At present, our curriculum provides a rich variety of topics that cover The Stone Age to the Tudors. Each topic has an overarching question which they refer to at the end of each lesson to see how different events and actions can accumulate to build a deeper understanding of a historical period. They explore this question using a variety of investigative skills, engaging and becoming more familiar with historical skills such as analysing and debating the reliability of sources, making comparisons between historical periods, devising historically valid questions, drawing conclusions from sources and making links between events.Underpinning this is an emphasis on children understanding the world around them, their country and their values.
How is History currently taught across Key Stages?
Across the whole school, there are four key historical learning intentions that the children will explore over the course of their education at Rivington:As they develop these skills in a range of contexts, so too will they develop the ability to be independent learners, using the key historical skills they have gained to analyse, question and compare sources of evidence to form their own judgement about the past.
Our History Vocabulary
At Rivington, we know that a good understanding of a wide range of vocabulary supports success across the whole national curriculum. We have identified 'core' words that the children will meet in different subjects and in different topics. These words will be revisited and taught in different contexts so that the children develop a deep understanding of their meaning and they become tools with which children can access the knowledge, skills and understanding the curriculum demands. Obviously, these are not the only words we will teach. But they will form a backbone through our curriculum to help to scaffold and develop the children's learning.  Children will also encounter our 'Curriculum Concepts' – a bank of 65 concepts which are to be re-visited across the curriculum and across year groups so that children can formulate links within their learning- developing their long-term memory.
History Trips
At Rivington Foundation Primary, we believe that fieldwork trips are highly valuable for cementing historical understanding and bringing history to life. As well as being lucky enough to be situated within easy access of amazing museums.We are extremely lucky to have a wealth of historical experiences on our doorstep. Staff are constantly looking for new experiences that will enrich the learning of their pupils.  This year's history trips have taken us to the Lancashire Archives, Astley Hall and Style Mill. We also organise talks and workshops, some of which have a cross-curricular links and some where an expert shares their knowledge with the children in a creative capacity. We have often been involved in joint projects with the Horwich Historical Society – reflecting on Local History and helping with the restoration of the Terraced Gardens. We regularly report on these in the newsletter and Twitter so do have a look each week and see what's been going on!
History at Home
As well as many museums, history is everywhere – in buildings, blue plagues and in the hills above us!  Children can also learn a lot from our own personal stories of the past which allow them to understand that the world changes with each generation. At Rivington Foundation Primary we actively encourage children to continue their research at home.
Below are some websites you might find useful:
BBC Primary History
Show Me UK
History on the net