Welcome to our Governors' page
We have a very active and supporting Governing Body, who truly believe in working together for what is best for our School. We have termly committee and Full Governors meetings, plus half termly Standards and Effectiveness Committee meetings and a separate SEN review.
Our Chair of Governors and our Headteacher have a weekly review meeting.
Our Curriculum Governors come into School throughout the year to develop an understanding of their subject specifically and to see school in action, with our Class Governors forming a link to each class.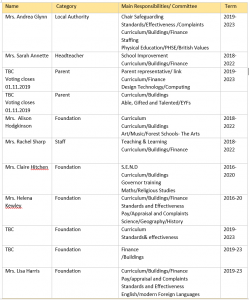 Downloadable Documents
Governors Register of attendance Sept 2016-July 2017
Governor information 2017-18
Governors 2017-18
Governors information 2016 – 17
Committees 2016-17
Governors Register of attendance March 2015- July 16
09019 INSTRUMENT of Government 19-05-2015